Size Guides - Useful Information
Getting the right size can be a difficult and frustrating process, especially if you are trying a new style. Each of our products has a size guide to help you get the perfect size for you. Simply measure the length of your feet and compare the length to the size guide.
We want to make the process as easy as possible so please use this guide to help you get the correct size.
1. Measure the length of your foot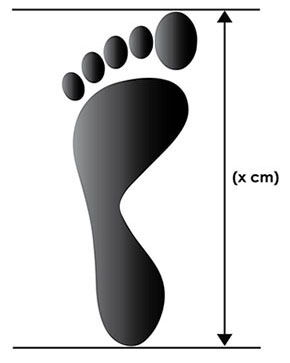 You can find a useful article on how to do this here.
2. Go to the product page on the website for the pump you are interested in and check the size guide.
3. Look for the closest measurement on the size chart to your foot measurement. It probably won't match your size exactly but look for the closest ones.
e.g. Your foot tracing is 217mm and you want to purchase this style.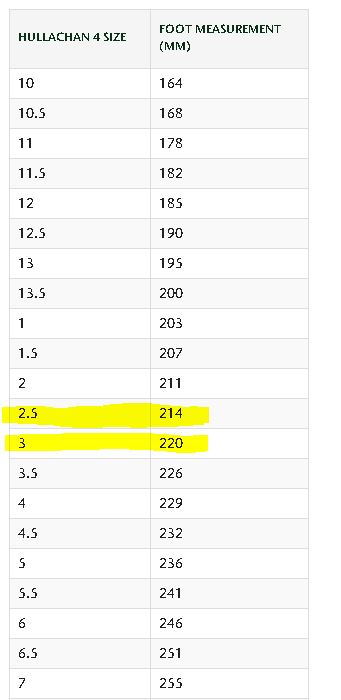 The closest measurements are the size 2.5 which has a suggested foot length of 214mm and the size 3 which has a suggested foot length of 220mm.
If you have a wider foot or a high instep then we would suggest going for the 3 (or if your foot is very wide then we would go up to the size 3.5.). If you have a narrow foot, are an advanced dancer or like your pumps tight then go for the size 2.5.
4. Add the size to your basket and you are done! If you are unsure then consider getting both sizes to see which fits better and then return the other size to us.
Will this guarantee I get the right size?
While we really try to ensure you get the correct size we cannot guarantee the size you ordered will fit you. Here is why…
Unfortunately, the truth is the shape of a dancer's foot is as unique as a fingerprint.
Yes, two dancers may have a foot length of 217mm but they may still require different sizes, even in the same pumps.
This is in part due to the other dimensions of the foot. One dancer may have a wide foot or a higher arch. The other may have flat feet or a high instep. One dancer may be wide around the balls of their feet but narrow at the heel, another dancer may have a bunion or another foot condition. Pumps or ghillies are different to normal shoes in that they wrap around the foot - they do not have a solid fixed sole like your favourite trainers or jig shoes. So all these other factors will affect the fitting of your pumps.
Without a visit to our Wembley store (where we can do a personal fitting!), we are unable to take account of all of these factors so while our sizing guide really does help 90% dancers get the correct size, the sizing recommendations won't be right for everyone.
If you have unusually shaped feet then we would recommend that you order a few pairs around the length you measured and then return any pairs you do not need once you have a fit you are happy with. This saves time and expense sending single pairs back and forth and will allow you to be confident in your choice. We would also recommend that you show your dance teacher your preferred fit before returning the unwanted pairs so they can give the pair you have selected the thumbs up.